10W Laser Engraver & Cutter
10W Laser Engraver & Cutter
Now, it's time to introduce the new kid on the block – LaserPro. As with our previous creations, this creative laser can create high-quality, intricate engravings on almost any material.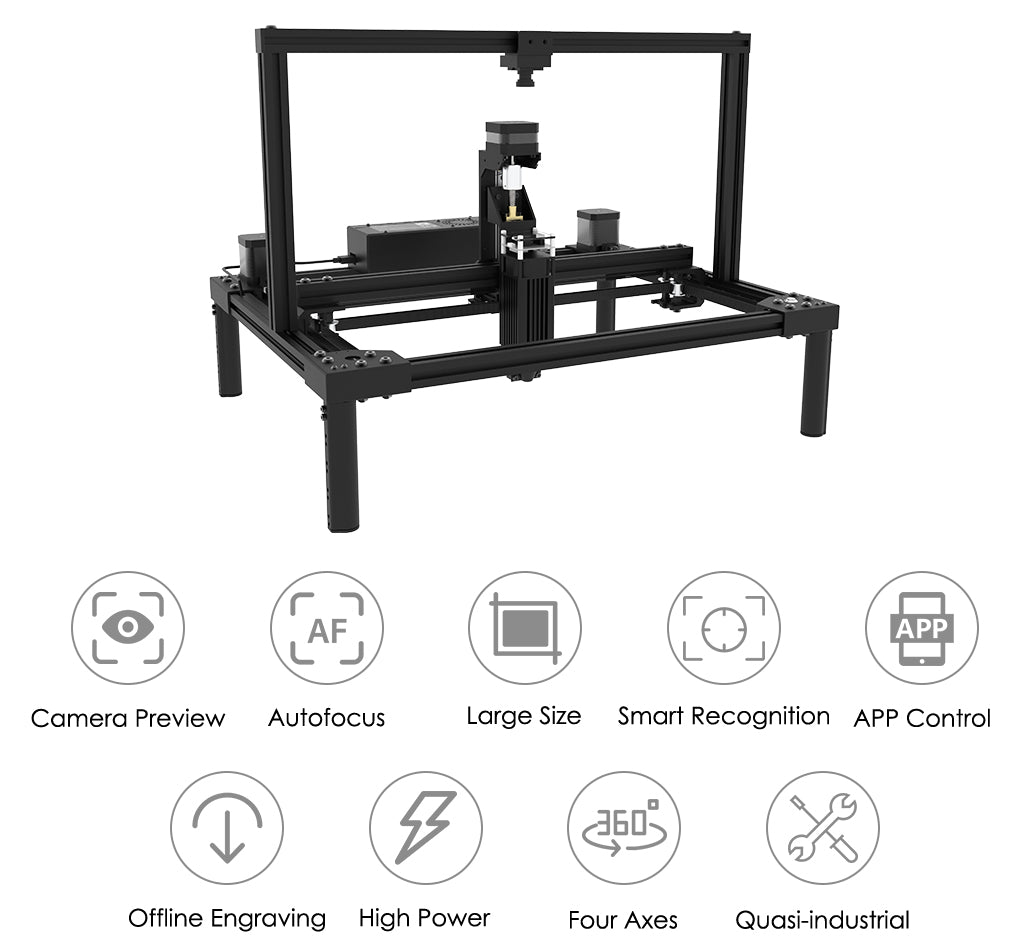 Check out the example show video made by Francesco Tagliamonte:
What Can You Engrave with LaserPro?
What Can You Cut with LaserPro?
Auto-focus
We've also included an auto-focus system that automatically focuses the laser on the object being engraved on – even if the surface is uneven or at an incline. 
Camera Preview
What's more, it has low distortion, HD built-in camera with intelligent recognition to copy patterns and designs onto another surface. Place your design with your mouse and position it exactly where you want.
Intelligent Recognition
Obtain graphics from the camera and engrave them on the products directly. With its HD built-in camera, accurate laser spot, application, and internal memory, you get to experience modern technology first-hand. 
High Definition
LaserPro offers state-of-the-art precision with a small pixel 0.08mm laser spot. This not only promotes fine lines but allows you to produce HDR artwork easily and creatively. 
Increased Engraving Range
LaserPro supports a super large engraving size of 305*215mm, giving you a reasonably-sized working range big enough to create amazing designs – yet compact enough to fit on your workstation.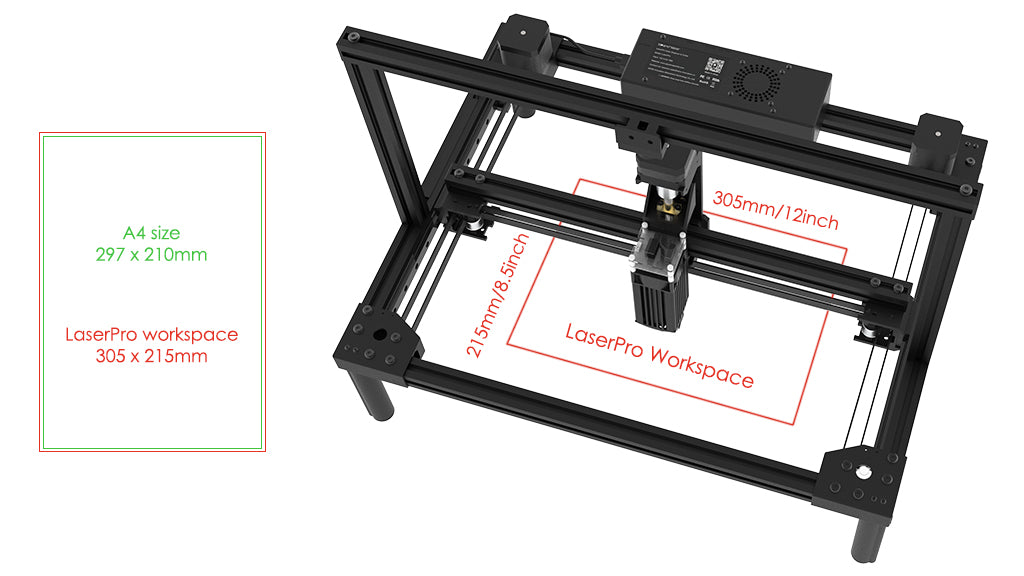 High Power
With the endless possibilities that the 7W  or 10W high-power laser provides, you can engrave directly onto anodized aluminum alloy, mirrored stainless steel, carbon steel, curved moving pictures, glass, and so much more. When it comes to cutting, the LaserPro can slice through wood and acrylic panels up to 8mm in thickness. 
To meet various engraving and cutting demands, LaserPro supports two laser types, 7W and 10W. Both types are interchangeable. 
Optical Path and Microscope design
The advantage optical path helps LaserPro to generate finer spot and higher power laser. This is why LaserPro can engrave directly on the stainless steel surface and easily cut 6mm MDF plates.
APP Control
Connect your smart phone to the LaserPro by Wi-Fi and start creating. Upload pictures to the LaserPro App and edit them according to your desired result. It's just that simple and powerful.
Powerful PC Software
Fast connect LaserPro to PC via USB port. With the powerful functions of image editing, set up the engraving & cutting parameters, preview engraving position and effect, record working video, calibrate the camera, test laser power, and engraving speed. You can easily ensure that you have a customized result every time. 
LaserPro software supports multiple image processing formats, which makes the entire process even more convenient and creative. 
Offline Engraving & Cutting
Click the button after sending the file and leave your computer and phone behind. LaserPro inbuilt with a 512MB high capacity memory, you can improve production efficiency without using a PC or smart phone. No need for an internet or USB connection while it's working.
Quasi-industrial Grade
The TMC2208 drivers and industrial-grade linear guides system ensure LaserPro works particularly smoothly with low noise and fast response for long-life applications. 
Our class-leading technology on LaserPro will help you create the best designs possible.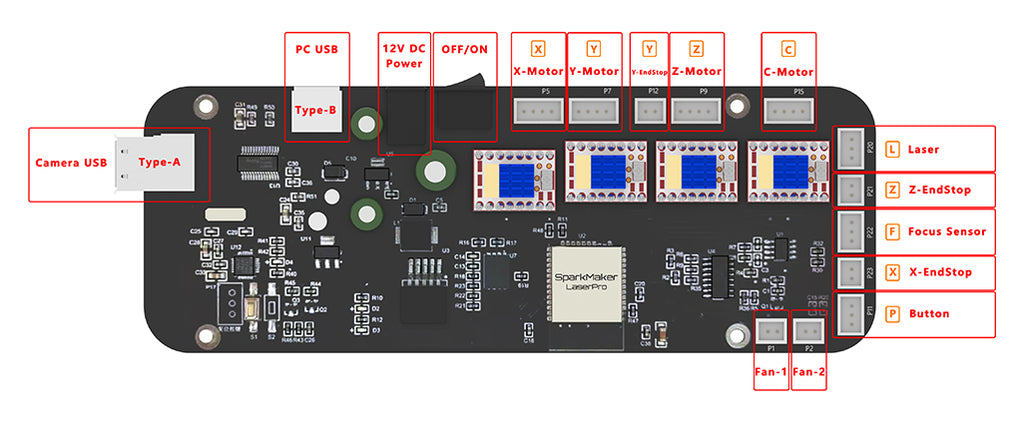 LaserPro vs Laser PECKER 2 vs Cubiio 2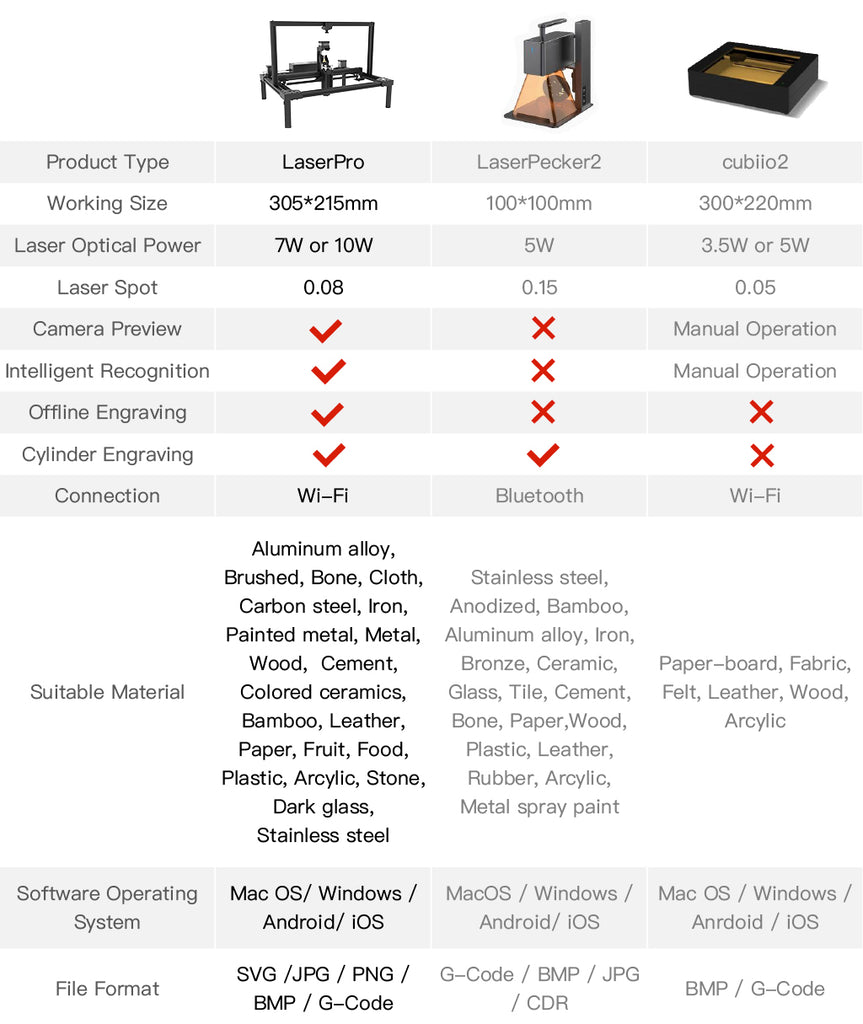 Cylinder Engraving
There's no shape limit. With the help of the extended fourth axis, LaserPro is capable of 360° rotating engravings on cylindrical objects. Spark your imagination and start whatever you want to engrave.
Think Safety First
LaserPro thinks safety a priority. The blue light protection shield can greatly reduce harmful blue light and protect your eyes. Furthermore, we reserved smoke vents on the shield, users can install a smoke exhaust pipe according to the creating demand. 
LasePro supports high-level safety protection like proximity pausing, emergency stop, and overheats protection too.
LaserPro Specifications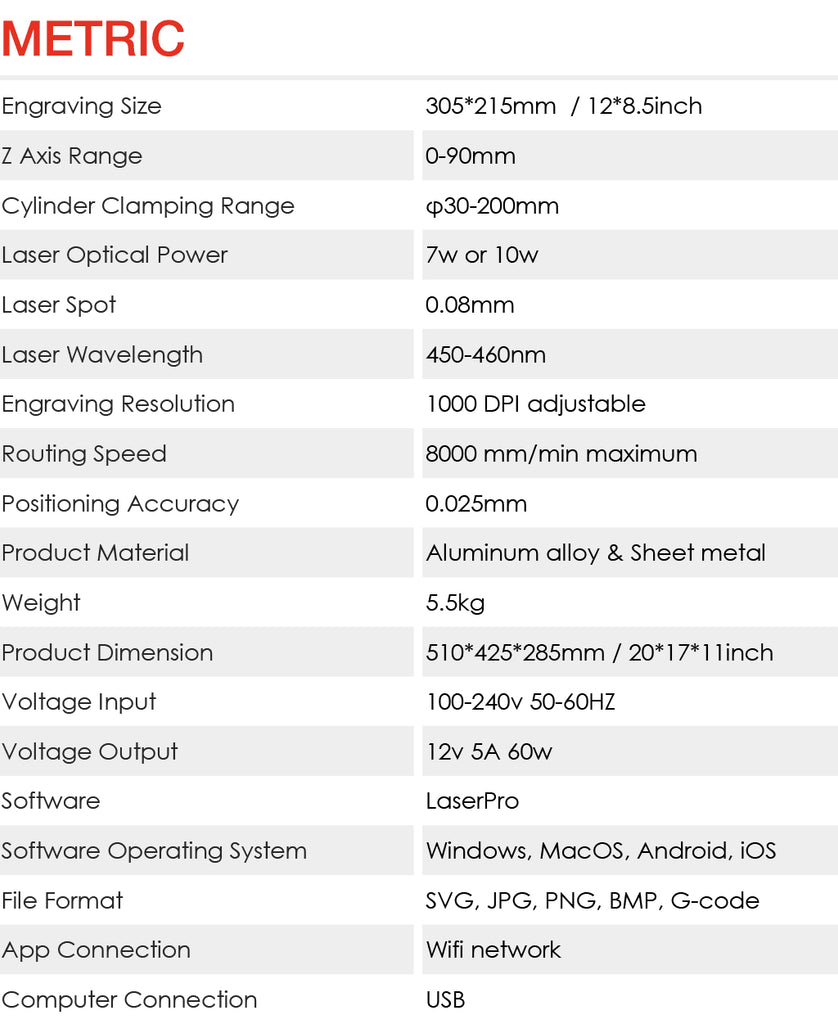 What's in the box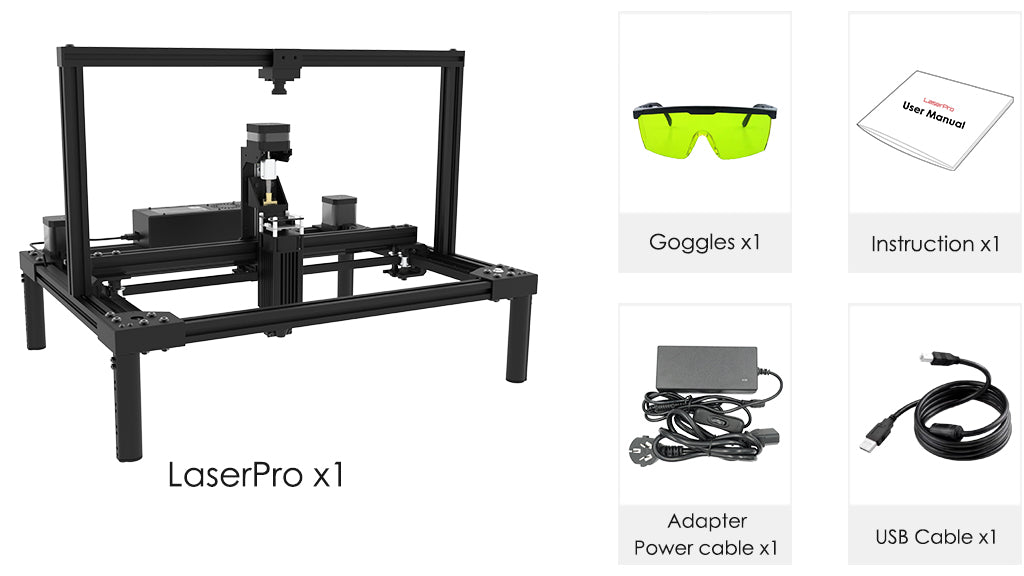 Amazing engraver
Cuts wood like butter. Doesn't cut steel. Yet to try aluminum. Engraves mirrors. Well pleased with results
Sooooo mesmerizing!!
There is a learning curve to this but so far I'm very happy with it. I can't say enough.....Had it put together and burning in less than an hour after getting it!!
Lo excelente de la máquina
Su resistencia y fácil armado y lo único que me gustó, ¡La configuración fue muuuy fácil y esta chica corta la madera como un cuchillo caliente a través de la mantequilla! Estoy totalmente enamorado y muy emocionado de ver lo que puede hacer. ¡Los cortes solo para probar estaban tan limpios que ni siquiera puedo describirlos! ¡Estoy enganchado!
Quick assembly, awesome UI and ease of use.
Packaged very well. Easy to set up and install. Once assembled we hopped on You Tube for a tutorial on how to use, download the software, etc. Overall very happy with the product for the cost.
very worth it!
Great product. Easy to set up, easy to use (there are videos on YouTube that explain step by step how to use it and which free software to use). Really good engraver.