10W Laser Engraver & Cutter
$685.00
$799.00
saving
$114.00
| /
10W Laser Engraver & Cutter
$685.00
$799.00
saving
$114.00
| /
Now, it's time to introduce the new kid on the block – LaserPro. As with our previous creations, this creative laser can create high-quality, intricate engravings on almost any material.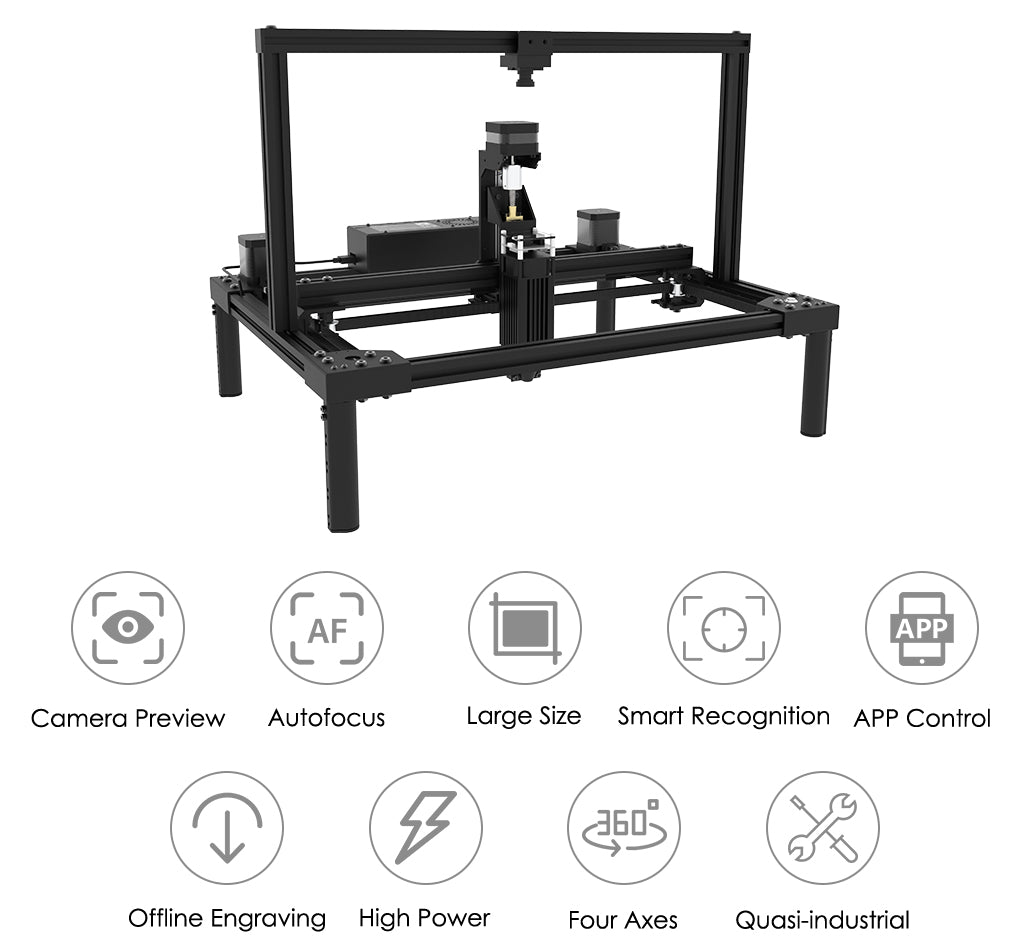 Check out the example show video made by Francesco Tagliamonte:
What Can You Engrave with LaserPro?
What Can You Cut with LaserPro?
Auto-focus
We've also included an auto-focus system that automatically focuses the laser on the object being engraved on – even if the surface is uneven or at an incline. 
Camera Preview
What's more, it has low distortion, HD built-in camera with intelligent recognition to copy patterns and designs onto another surface. Place your design with your mouse and position it exactly where you want.
Intelligent Recognition
Obtain graphics from the camera and engrave them on the products directly. With its HD built-in camera, accurate laser spot, application, and internal memory, you get to experience modern technology first-hand. 
High Definition
LaserPro offers state-of-the-art precision with a small pixel 0.08mm laser spot. This not only promotes fine lines but allows you to produce HDR artwork easily and creatively. 
Increased Engraving Range
LaserPro supports a super large engraving size of 305*215mm, giving you a reasonably-sized working range big enough to create amazing designs – yet compact enough to fit on your workstation.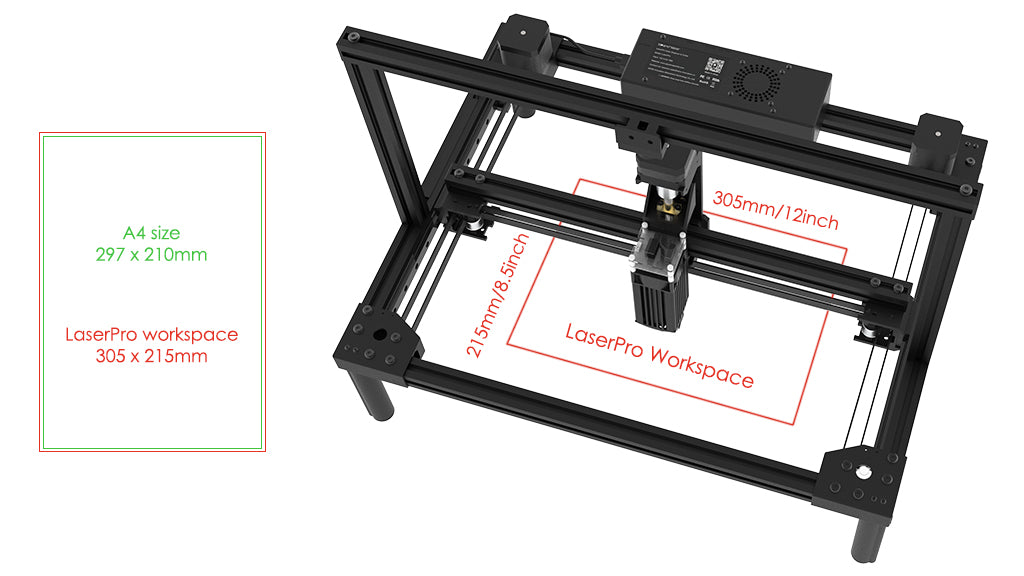 High Power
With the endless possibilities that the 7W  or 10W high-power laser provides, you can engrave directly onto anodized aluminum alloy, mirrored stainless steel, carbon steel, curved moving pictures, glass, and so much more. When it comes to cutting, the LaserPro can slice through wood and acrylic panels up to 8mm in thickness. 
To meet various engraving and cutting demands, LaserPro supports two laser types, 7W and 10W. Both types are interchangeable. 
Optical Path and Microscope design
The advantage optical path helps LaserPro to generate finer spot and higher power laser. This is why LaserPro can engrave directly on the stainless steel surface and easily cut 6mm MDF plates.
APP Control
Connect your smart phone to the LaserPro by Wi-Fi and start creating. Upload pictures to the LaserPro App and edit them according to your desired result. It's just that simple and powerful.
Powerful PC Software
Fast connect LaserPro to PC via USB port. With the powerful functions of image editing, set up the engraving & cutting parameters, preview engraving position and effect, record working video, calibrate the camera, test laser power, and engraving speed. You can easily ensure that you have a customized result every time. 
LaserPro software supports multiple image processing formats, which makes the entire process even more convenient and creative. 
Offline Engraving & Cutting
Click the button after sending the file and leave your computer and phone behind. LaserPro inbuilt with a 512MB high capacity memory, you can improve production efficiency without using a PC or smart phone. No need for an internet or USB connection while it's working.
Quasi-industrial Grade
The TMC2208 drivers and industrial-grade linear guides system ensure LaserPro works particularly smoothly with low noise and fast response for long-life applications. 
Our class-leading technology on LaserPro will help you create the best designs possible.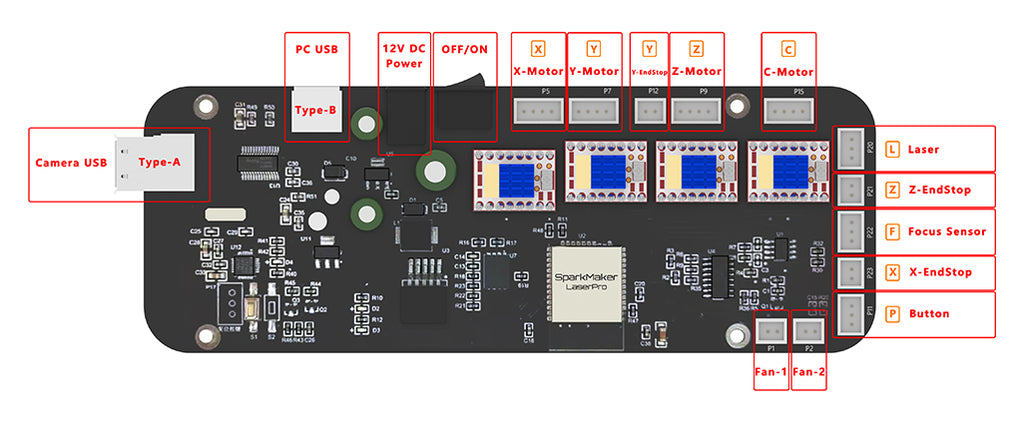 LaserPro vs Laser PECKER 2 vs Cubiio 2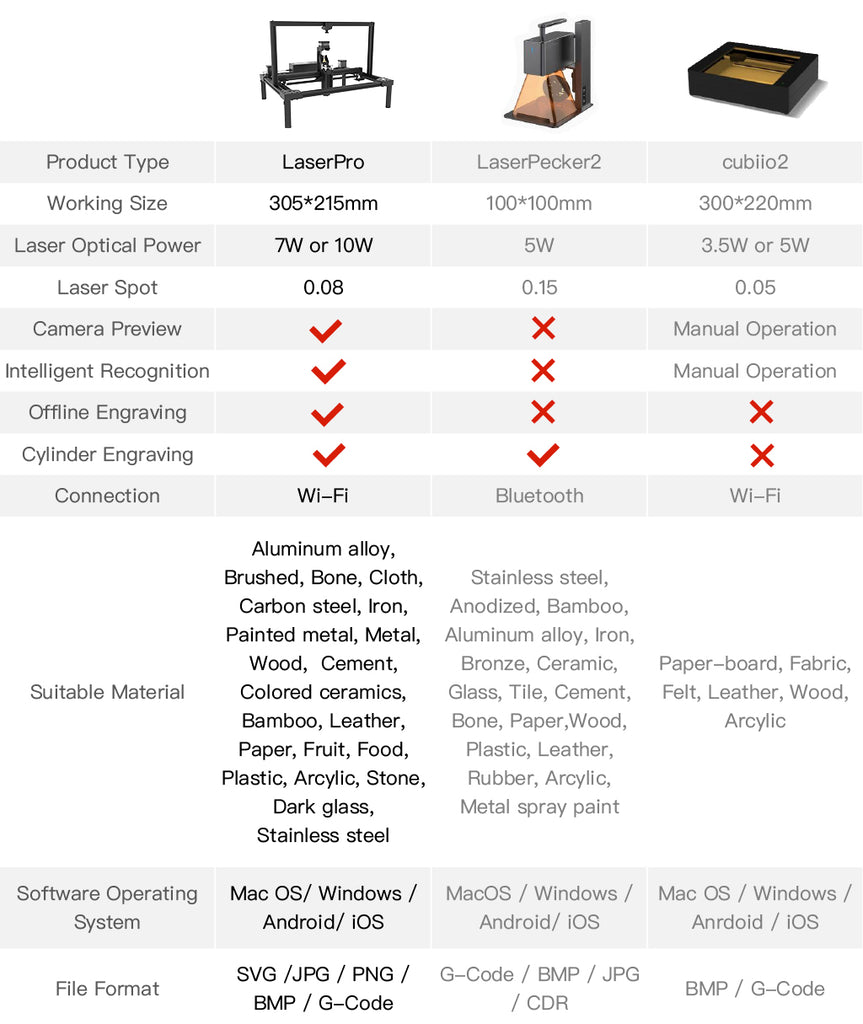 Cylinder Engraving
There's no shape limit. With the help of the extended fourth axis, LaserPro is capable of 360° rotating engravings on cylindrical objects. Spark your imagination and start whatever you want to engrave.
Think Safety First
LaserPro thinks safety a priority. The blue light protection shield can greatly reduce harmful blue light and protect your eyes. Furthermore, we reserved smoke vents on the shield, users can install a smoke exhaust pipe according to the creating demand. 
LasePro supports high-level safety protection like proximity pausing, emergency stop, and overheats protection too.
LaserPro Specifications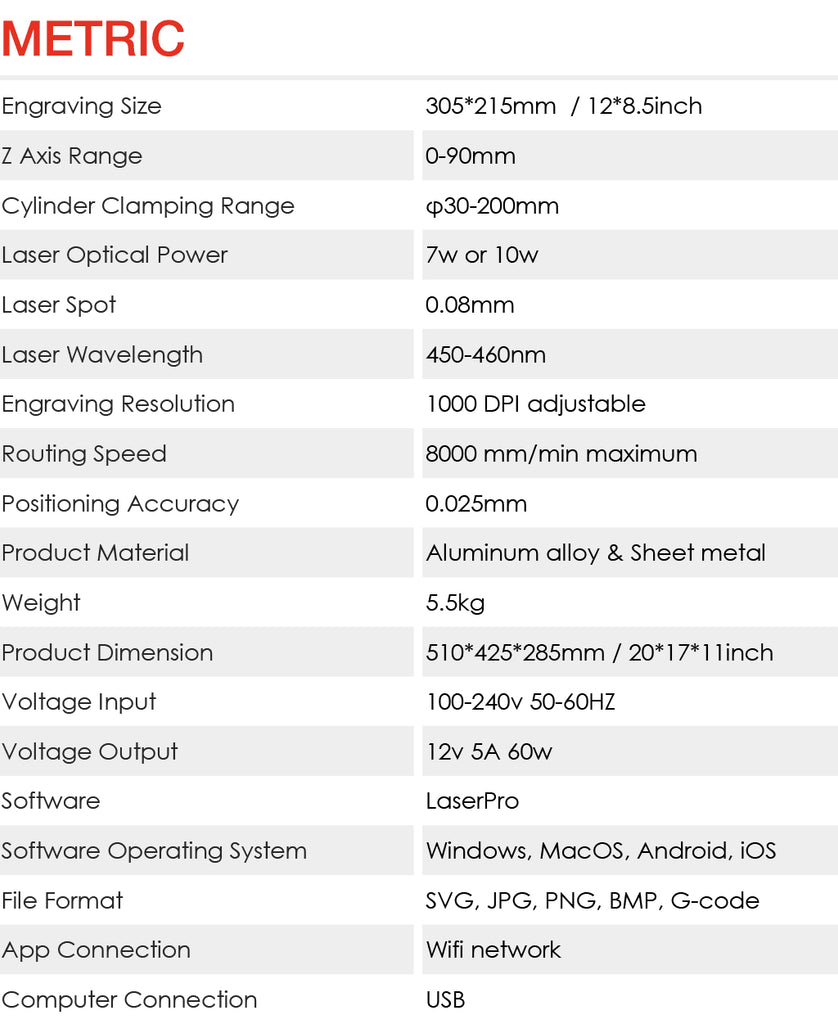 What's in the box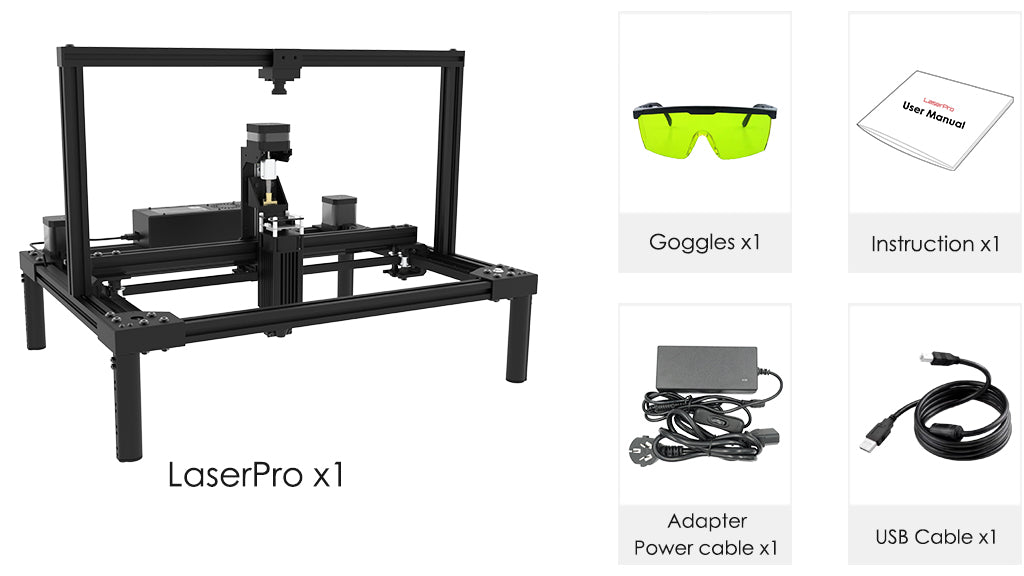 Honest Review -LH
Fit and Finish: The extruded Aluminum frame is great! The stepper motors are very solid metal and have good weight to them. The height adjustable feet are nice for when your project it on the taller side. Having the unit 70% complete with minimal assembly is great. ****If you are running a USB extender, make sure that it has a signal amplifier so when the G-Code is transmitted live, you don't lose the signal and the laser stops*****. For standardization of USB interfaces, I would recommend that SparkMaker3D switch to a USB-C or USB-A plug as these are more common. Lastly, as a lot of makers tend to use their laser further away from their computers, I would also recommend a 5m or 16ft USB cable.
Laser: The thing everyone cares about. The precision is amazing and the focal point cuts cleaner and smaller than any blade I have ever used. Coupled with the auto focus really provides a high quality engraving. Given the amount of detail that can be gained from the quality of the laser is fantastic. The power of the laser will meet your everyday needs with power to spare. All of my test samples show that anything higher than 20% starts to destroy what you want to engrave. This is material and speed specific of course.
Engraving Area: The engraving area is on the smaller side when compared against other desktop or entry level laser units. However, SparkMaker3d competitive advantage is their motorized and auto focusing Z-axis. Lastly, given that the frame is made from extruded aluminum and belts, then personal expansion is a possibility.
Movement: Z-AXIS! This is why I chose this SparkMaker3d over all the rest of the desktop laser engravers. Once you have the correct configuration loaded into lightburn the real-time z-axis control works. The curved surface control is awesome. Even if you think something is flat the z-axis still picks up the subtle differences. That said, the unit does need more that one stopping sensor on the laser. This would prevent running into or it trying to run beyond its intended engraving area and protect the belts and motors. All three axis movement are smooth. Keep some dry lubricant on hand however as the system will start to squeak from residue buildup over time.
Camera: Camera quality works as intended. If you are expecting a 4k webcam, then you are going to have to purchase that option. The USB-A standard connection is great as this leaves room for upgrades later if needed. Make sure you calibrate it. Likewise, there are differences between LaserPro and Lightburn for how the camera is aligned. Or maybe that is just mine. I have not had a chance to do any recording with it yet, but given the directly overhead position, I think I might purchase a second higher quality camera for recording.
Noise: Operations are fairly quiet. The only time it gets "loud" is when the laser is engraving at higher powers or cutting. I found this to be material specific too. Denser materials tend to be louder with the engraver vs soft materials. The smooth action of the stepper motors on the belt are great.
Software: Expectation management. SparkMaker3D is a startup company. I knew this going into my purchase, so I tempered my expectations some and increased my patience with their software. I would like to equate the LaserPro software to get a usable product out the door as quickly as possible, updates as features are developed will occur. If you are looking for the simple ability to add a shape or text, that ability is not there yet. Likewise, mm to in conversion is missing. The software does natively understand there is a motorized z-axis. The software is very basic and I'm sure as growth occurs so to will the features within their native software. Right now there are some basic engraving profiles based on different materials and the ability to add pictures. The oversized feature in the advanced option is great for large projects and needs to be better highlighted. Till then, LightBurn is the now gold standard, but even LightBurn is not without its faults.
Overheat Protection: Works as advertised. However, this is where software can play a factor and a simple temp readout on the UI and how close to overheat the system is at would be a great feature. With that, make sure you are using it in a well ventilated area with an extra fan blowing on the laser to keep it cool.
Documentation: Again expectation management. One point I do have issue with is the lack of troubleshooting or additional in depth materials. I think SparkMaker3d could make tutorials using their software to highlight or show beautiful engravings and how they achieved it would be beneficial.
That is all I can think of at the moment. I wish you the best of luck and happy burning!